30 Travel Hacks That Will Save You Time & Money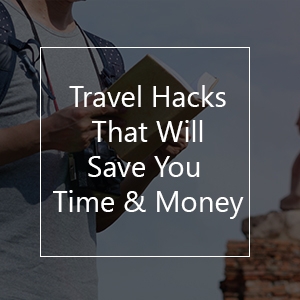 Before traveling, you need to seriously prepare for your trip. Sounds simple, but sometimes it is not. There are so many aspects to take into account before traveling.
It does not matter if it is a short trip, a business travel or if you are traveling with your family.
No matter how long is going to be the trip or the possible destination. You need to be prepared for –almost- everything.
Planning a trip can be very stressful. But keep calm and learn about some travel hacks related to some of the most worrying parts of traveling.
Make A List
---
Wrap Your Clothes
Instead of fold your clothes you can wrap them. By doing this you are going to gain some extra space in your bag.
Fill Every Space
Every single space counts when you talk about packing. No matter how big or small it could be, the thing is that even your shoes are used to pack at least underwear.
Ziplock Bags
It is really annoying when you need some of your gadgets but you cannot find them at that moment. Now, you have to take out everything from your suitcase and it makes you waste some valuable time.
How can you avoid this? Put them all in a Ziplock bag. In that way, you just have to look for it and get immediately what you need without any complication.
Digital Books
If you are a big fan of reading, you may want to bring a lot of books to read on the road or during the flight. It is comprehensible, but, you have to update yourself and get some good titles on your tablet or kindle. This is the best way to carry your own library everywhere.
Valuable Objects
Sometimes travelers carry things that are really expensive. Some things that have a significant value such as jewelry or just money. Of course, they do not want to lose them and probably they feel insecure since those objects could be overexposed wherever they put them.
How could I hide these objects? Well, you could take an empty sunscreen bottle or any other product and hide some bills, necklaces or even a ring. It could be an awesome way to carry your valuable objects without being noticed. This is an interesting tip that traveling hackers tend to do.
Film Paper
Products like shampoo, body wash or lotions are generally in a bag and they always represent a problem. They could easily spill in any sudden moment with a hard movement. You can avoid this by taking out the cover of the container and line the top of it with film paper. Then, put the cover again and travel calm and safe.
Customize Your Packing
One of the most common incidents when traveling is losing your luggage. The best advice to avoid this annoying situation is personalizing your packing. You can
add a sticker of your favorite rock band
write your name
use a conventional padlock
any other element that allows you to identify your suitcase
Step by Step
You should consider the following steps that will make easier the packing part:
Put together all the garments you are going to need.
Place your shoes at the end of the bag and fill them with socks.
Choose knits, wools, and cotton.
Roll softer clothing and fold stiffer ones.
Put rolled items in the bottom of the bag.
Arrange folded garments after that.
Put your underwear and jewelry in Ziplock bags.
Travel Hacks for Kids
---
Traveling with kids is a wonderful experience. All you need is enthusiasm, a little bit of patience and the best attitude for discovering new places together.
Packing
When packing for kids you have to be even more organized. You cannot forget anything and at the moment of looking for something you have to know where it is.
Enough Clothing
All parents know that children get dirty easily, and that's why they have to change their clothing more than an adult. If there is no possibility of doing the laundry during the trip, you have to pack at least two outfits per day.
Also, you should pack another formal outfit just if you have the intention of going out for dinner in the family. Shoes and extra underwear are totally necessary too, you never know when you will need them.
Weather
It is always recommendable to pack sweaters, long t-shirts or jackets for them. The weather can change and get cold. If it happens and you are not prepared for this, your kids can get sick and your vacations will get complicated.
The Right Side
You can get what you need any time you look for it if you divide the bag.
Toys
They are kids and they want to have fun every single time. That's why traveling without their favorite teddy bear, dolls or cars is like an impossible mission. You only have to pick those that are not so heavy or big.
Food & Snacks
Some kids have special tastes related to food, like fruit smash, jelly or jam of a determined brand. Sometimes you cannot find these kinds of food in the place that you are visiting, so it is important to pack a pair of it.
Another example is when your child has a specific diet. You are the only one that knows what your kids can eat or not without problem. Take the extra space in the bag to put the special products they can eat.
Medicines
Do not forget the specific medicines for them. Sometimes it is extremely difficult to find them out abroad and it is better to prevent an illness.
Travel Hacks For Flying
---
Traveling is one of the best things in life, but sometimes the flight is very long and boring. Here are some travel hacks for flying for you to know what to do during the flight and have an enjoyable experience.
Investigate Before Traveling
It is recommendable to search on the internet for some information about the destination. You can use some current apps like Google Earth to find restaurants, bus stops or train stations. You can also get a route to go to the hotel.
Check Your Bag
Traveling with a light bag is important because it let you move around in an easier way without wasting time. So, traveling with a big bag can suggest that you have to check it several times and as a consequence, you take a long time to go out of the airport. Keep in mind that it is not allowed to bring gels, creams, perfumes or any other liquid that contain more than 100 ml neither sharp objects.
The Best Seat
You have to reserve a good place before; there are some airlines that let you do this. It will also depend on what you are looking for. If you want a place for stretching your legs you must pick the ones near to the exit or the hallway. If you want to be calm and relaxed, it is important to avoid crying kids and people who work during the flight.
Comfortable Clothing
Wear what you consider that makes you feel more comfortable and do not use tight shoes. Forget all about jewelry and keep in mind that planes are always cold. So it is important to bring a coat or a sweater during the flight.
Be Ready
If you want to have a good flight you may carry some personal things. For example, if you have some troubles to sleep and you are really tired, you may want to take a nap and your pillow will help you to sleep on the way.
Another thing could be your earphones to be isolated from the rest of the people by listening to your favorite music or an audiobook. Also, you could put your toothbrush with the toothpaste in the carry-on bag to have a fresh breath in the plane.
Save Money
Invest only when it is necessary. Taxi rates in some countries are high depending on where you are, and some airports are far away from the middle town. You should look on the internet for bus stops, subways or train stations near the airport or the place where you are going to stay. If the subject is the food, try to eat in cheaper restaurants, those that offer food to take away and keep the bill.
Rest While You Can
Traveling could be an exhausting activity. If you can sleep on the plane, just do it. Then you will have the necessary energy to face all the activities you have, even the social meetings.
Be connected
Most airports offer Wi-Fi connections for your device, but just a few of them supply this service for free. Avoid roaming charges and get a SIM card in that country. You can also activate the tethering from your cell phone to browse the internet in any other gadget you have. Click here to see the Prepaid SIM Cards available at SimOptions.
Travel Hacks Cheap Flights
---
Sometimes to take a flight is a little bit expensive, but there is always a good one for you to go anywhere. You only have to read this to know all about cheap flights.
The Right Date
You have to select those dates out of season to take a flight. It implies to get up really early or travel during the night. The destination is important too because there are some places more popular than others, it means they are more expensive. Some apps show you the price of the flight but sometimes it is not correct, but, it gives you an approximate cost.
Book Separately
The right thought is to book a round-trip ticket because it should be cheaper, but is not always in that way. Actually, it is often cheaper for some agencies if you buy two separated tickets. You only have to search, compare and look for the best way to save your money.
Say Yes To Scales
It is supposed that if you take a direct flight it could be cheaper, but in fact, it is not. The real thing is that it will be cheaper if you take a flight with many hours of scales in any other destinations. You should consider saving your money while making scales in other countries.
The Best Airport
The cheapest airport is not that one that is closer or the one that is bigger or smaller. There are so many reasons to deduct it, you only have to compare until you find the right one. Take an advantage of any discount that the airport can offer and keep in mind that if you only bring a carry-on bag you will avoid any charge for luggage.
Business Travel Hacks
---
Business travels are exciting before starting because you tend to think what you are going to do during the days, believing that you will finish your job in less time. Unfortunately, those are only dreams. Business trips are exhausting and it means that you will not be able to sleep as much as you should.
Bad nutrition, a poor signal on your phone and slow internet connection are just some of the stressful things you will experience Now by reading this you will find some business travel hacks to have a productive trip.
Starting Fast
At the moment you know you will need to travel for business, you have to make the hotel and flight reservations. It will help you to take advantage of any offers and save money, which is really important. By doing this you will show that you are a responsible and organized person. You are not only selling a service or a product, you are also showing how to do it.
Light Luggage
Plan your outfit for every day to pack just what you need. Believe it or not, at the end you will be tired, so you could simplify your chores by packing the necessary things and avoid carrying a heavy baggage.
Take Advantage of The Time During The Flight
You can write some e-mails to send them just when you arrive, or you can work on that project that you have not finished. Remember that you can meet new people for new business matters or just for asking them for some information about the destination. So, take advantage of the time.
Think About Yourself
---
Invest the extra time you could have out of the office. You will not want to look tired or in a bad mood. Keep in mind that traveling is a great opportunity to know other cultures and become yourself into a natural leader.
Traveling is sometimes stressful, but you can turn it into a simpler thing now that you know many hacks and solutions for –almost- everything related to this topic. Next time you go on a trip, come back to this article and follow the recommendations from here!
Since you're here…

… we have a small favor to ask. If you enjoyed reading this article, we'd be glad if you share it with your friends on Social Media. Travel hacks are useful for every traveler! If you are looking for a solution to stay connected to the internet abroad, check out our SIM Cards! They are 100% free of any roaming charges and you only have to pay one fixed price!