How to Survive Long-Haul Flights
Traveling is one of the best ways to relax and disconnect from daily stressful activities. Even if you often travel just for business, traveling should always be a great experience. This can be kind of difficult if you are flying further than you are used to. Here is when you start surviving long-haul flights and your longed vacations become a nightmare.
People snoring, crying kids, loud music or video games or not enough space for stretching your legs are just some of the most common things you will experience during a long flight. But, do not worry! In this article, you will learn how to cope with long-haul flights.
Does Melatonin Really Work For Long-Haul Flights?
---
Although it is not recommended to take any pill before flying, there are natural options like melatonin that may help you with your sleeping cycle during your long-haul flight.
Have you ever heard about it? Well, this hormone is the one in charge of controlling your sleeping and waking cycles. As people get older, levels of melatonin decline. That is the reason why older people sometimes sleep less and they need to take sleeping pills.
Recent studies have confirmed the positive effects of melatonin on long-haul flights. During a study, some passengers took melatonin for three days before the long flight. Then, they took a dose during the flight and another one after the flight for three days. These passengers recovered faster than the ones who did not take it.
It is recommended to follow the pattern explained above to have a complete recovery after the flight. It is also demonstrated that taking melatonin just before going to sleep does not have any effect on the sleeping cycle. So, consider taking melatonin before, during and after your long-haul flight to recover your normal sleeping cycle.
How Can You Survive Long-Haul Flights?
---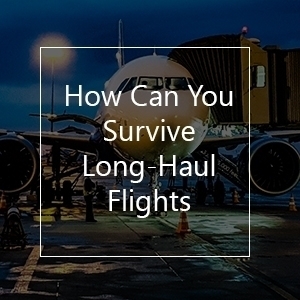 There are many pieces of advice for long-haul flights that you could follow to have a better flight experience. But here we chose a top 5 of the most important tips and tricks for you:
1. Drink water, but not too much
Dehydration on long flights is very common. Since you are going to spend many hours on the plane, it is recommended to drink at least one liter of water every five hours. If you do this, you will avoid headaches, dizziness and some other consequences of dehydration. But, try not to drink more than the recommended amount. You will avoid going to the bathroom every five minutes.
2. Avoid caffeine
You should consider sleeping as one of your priorities during the flight. This will not be as easy as it should be if you drink coffee or soda right before or during the flight. Try to drink just water or juice. Also, you could drink natural teas with chamomile or valerian which will help you to relax during the flight.
3. Choose the right seat
Choosing the appropriate seat helps a lot. Being able to stretch your legs or reclining your seat is very important to have a better flight experience. Taking into account that you are going to spend hours and hours in the same place, this is a significant aspect to consider. There are web pages like SeatGuru that help people to choose their seats according to their needs. It shows you which seats are near the bathroom, which do not recline and some other characteristics. You should visit this page before buying your plane ticket.
4. Use headphones
Using headphones will help you a lot during the whole flight. Listening to music or watching a movie with headphones will be better for you and the others passengers. Be discrete with the volume so you will not disturb anybody.
5. Light carry-on bag
Before packing your carry-on bag, make a list of the things you will really need. Try to pack just the most important and necessary things. By doing this, you will need just a small bag that will not interrupt your space. If you want to stretch your legs you will be able to do it if you have enough space.
The Best Neck Pillow For Long-Haul Flights
---
Fundamentally these kinds of pillows provide comfort when you travel. No matter if you go by bus, car, plane or if you have to spend the whole night sleeping in the airport.
Most travelers tend to think that bringing a pillow can take important space in the bag. But, the real thing is that nowadays there are several models of pillow for traveling. You can buy those that are inflatables or the ones that are folding. In fact, by having this pillow you will get more benefits than troubles.
Now we recommend you some pillows for you to have a reference of great comfort and durability at the moment of getting one:
Purefly
This pillow has many points in favor. One of them is that just pressing a single button you can inflate or deflate it. Another interesting thing about this pillow is that it has a velvet cover that you can remove and wash whenever you want. You can perfectly put it around your neck because it has two supports on both sides. At the moment of packing, you can deflate it and put it in a bag. You will save space. Get more information here.
Udream
It is considered one of the most comfortable pillows according to the opinion of thousands of travelers. This pillow is made of elastic foam that causes a relaxing effect due to the perfect support on the spine, neck, and head. One particular aspect about this pillow is that it has a pocket on the side where you can put your mobile phone or any of your credit cards. In this way, you can have those important things close to you.
Samsonite
This pillow offers a special support on the back, shoulder, and neck. You can also inflate it easily but it is a little bit noisy. Despite this it is a good option for any kind of trip; additionally, it has a protective cover that is pleasant to the touch. You can them here.
Travelrest
Almost all travel pillows are designed for the neck, but this one, in particular, has a shape for you to tilt your head to rest. To set its position you just have to hold it to the car's belt or the seat of the plane. The best part is that it is extremely soft and you will be able to sleep and wake up without feeling any pain. Check it out here.
Things To Bring On A Long Flight
---
The longest flights require more organization than the shortest. If your intention is to have a good time while you are flying, you should read this tip so you will not over pack and you will bring only what is necessary.
Pillow and Blankets
Commonly on the airplanes, the flight attendants offer this kind of things. But, sometimes it could not be so comfortable as your own pillow and blankets, perhaps you are used to its ergonomics and softness. Without any doubt, it will help you to rest during the flight.
Wet Tissues
It is important to keep your hands clean or anything you need to clean. It is annoying to be sticky or spotty after having your meals. If you bring a packet of wet tissues you will avoid going to the bathroom any single time you get dirty.
Earphones or Headphones
If you try to sleep but the noises on the plane are so high, you can put your earphones and mute the moment. By listening to your favorite song or listening to an audio-book you can get a relaxing moment while you travel.
Light Clothing
It is recommended to dress up in comfortable clothing when you are going to travel for many hours. Wearing loose clothing will help you to feel more comfortable. You just need to avoid those synthetic materials that overheat your body. You should also avoid clothing brands that attract people attention. As well as unnecessary jewelry, boots or buckles that will only delay you in the checkpoints. Keep in mind that you will worry less if you do not bring very valuable things. The temperature on the plane tends to low, so remember to pack a coat or something similar to cover yourself.
If this is your first time on a long-haul flight, take into account all these bits of advice and enjoy your travel experience!
Since you're here…

… we have a small favor to ask. If you enjoyed reading this article, we'd be glad if you share it with your friends on Social Media. Maybe they want to survive long-haul flights, too! Here at SimOptions we offer International Travel SIM Cards for Europe, America, Asia and more delivered right to your doorstep in over 70 countries! Check out our

International Travel SIM Cards

available and start your holiday relaxed after a long-haul flight!