Travel SIM Card Switzerland & 3 Other Solutions to Stay Connected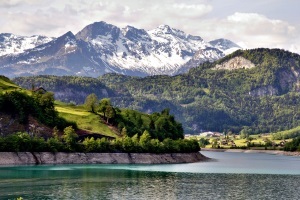 Are you planning a trip to Switzerland for business or leisure soon? If so, you probably had a lot of things to think about, between the accommodation, the plane tickets, the currency exchange, and so on.
What you probably forgot in all this organization is your mobile phone usage. How will you stay reachable during your trip? Will you be able to use your apps when you'll be there? Well, don't worry, because we selected for you the four best options to stay connected to the internet in Switzerland including a Travel SIM Card for Switzerland.
---
Travel SIM Card for Switzerland 
Among all solutions to keep using your phone abroad, the Travel SIM Card is the best choice. The Travel SIM Card for Switzerland & Europe is the best offer available in its price range.
For only $49, you can have 12GB in 4G LTE to access the Internet, 3,000 minutes of calls and 3,000 SMS in all Europe including Switzerland. SimOptions delivers worldwide, so you can get your Travel SIM Card Switzerland shipped to your home or straight to your hotel at your holiday destination.
Keep in mind that you will need to insert the Travel SIM Card for Switzerland in a SIM slot. Some phones on the CDMA network won't be able to take it, and you will need to take out your everyday SIM to use this one if you don't own a Dual SIM device. This means that you won't be reachable at your regular phone number until you put your SIM back in your phone.
---
Data Roaming in Switzerland
If changing your current SIM Card to a designated SIM Card for Switzerland is unthinkable and you can pay incredible phone bills, you can go with Data Roaming. Be careful though, because even if you're prepared for this, the operators' roaming rates can be extremely high. If you don't want to ruin yourself on one phone bill, we recommend you to avoid this solution.
Be also very careful with the travel packages that your Mobile Network Operator can offer. In 90% of the cases, those are overpriced. Furthermore, if you reach the limits of your allowance, you are getting charged the roaming rates; sometimes without warning. If you want to stay on the safe side and not use data roaming at all, then read how to avoid roaming charges.
---
Free WiFi in Switzerland
Switzerland is equipped with a lot of Free WiFi hotspots. While this can be a good solution to stay connected without paying, it can have some serious drawbacks.
First of all, hotspots are mainly concentrated only in urban regions. The mountains and countryside probably won't be covered. Moreover, the connection isn't always secure, and you'll most likely suffer some slowdowns and frequent disconnections.
Also, the hotspots aren't always on public access. Most of the time, they belong to cafés or restaurants, and you'll have to order if you want the password. In this case, Free WiFi is Paid WiFi in disguise.
Also, public hotspots don't provide phone service, so if you need to call somebody or to send text messages, the Travel SIM Card Switzerland is a better choice.
---
Pocket WiFi in Switzerland
You plan to use a huge amount of data? Maybe the Pocket WiFi for Switzerland is the solution for your needs. It is a router that fits in your pocket while connecting up to 10 devices to the 4G network. You don't know what a Pocket Wifi is exactly? Learn more about here -> What is a portable wifi router?
This solution is better for groups though, as it can be a little bit expensive. If you need something more affordable, go for the Travel SIM Card Switzerland, which has 12Gb of 4G Internet and also provides phone service.
---
Since you're here…

… we have a small favor to ask. If you enjoyed reading this article, we'd be glad if you share it with your friends on Social Media. Everyone should at least visit the best places to visit in USA once! Thanks for sharing!