How To Avoid Roaming Charges?
Published: February 04 2020
|
Updated: April 26 2022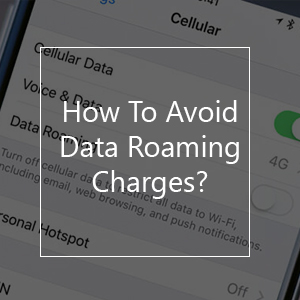 It is well known that roaming can be very expensive sometimes. It is an essential thing to take into account when you are planning to travel to another country. Do you have any doubts about this topic or have you already been charged with high roaming costs?
Here we have very helpful recommendations to avoid roaming charges. Apart from worrying about the hotel, your flight and which places you should visit, there is another important aspect you should consider: roaming charges.
First, you need to ask yourself two simple questions:
Do you need to receive messages and make calls while traveling abroad?
Do you need internet access abroad?
By answering these questions, you will know if you need a roaming service or data roaming. These are two different services with different charges. No matter which option you choose from the ones above, here are the things you should consider to avoid roaming charges overseas. So, let's start!
Our Tips & Tricks to Avoid Roaming Charges
---
1. Check roaming rates
---
Before you turn on roaming service, you should check the rates and the coverage depending on the country you will be visiting. If you are living in the EU, you can use the calculator from RoamingEU to see the estimated costs of roaming. If you are outside, please visit your Internet Service Provider for more details  
2. Compare different plans
---
There are companies like T-Mobile and Sprint that offer postpaid international/global roaming plans with unlimited texting and 2G Speed. They can be used in more than 140 countries and calling costs $0,20 per minute. On the other hand, there are only two prepaid carriers that allow international roaming beyond North America: Google's Project Fi and MetroPCS.
With Google's Project Fi, you will pay $10 per GB and you will be charged only for the data used, plus unlimited texts. Voice rates are $0,20 per minute and can be cheaper over Wi-Fi.
MetroPCS offers World Calling which costs $10 extra per month and you will get 200 minutes of talk and 200 text messages (unlimited received). Additionally, you get 200MB of data while you are in countries like Mexico, Canada, Spain, Japan and some others.
3. Turn on the Wi-Fi
---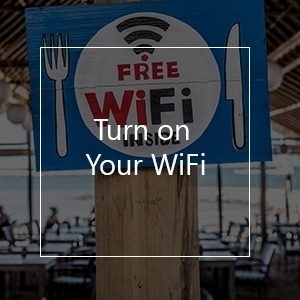 You can try to put your cell phone on flight mode and connect it to a Wi-Fi network each time you have the opportunity. There are many places like cafés, shopping malls and parks where you can connect to a Wi-Fi network completely free. You do not have to worry about high roaming charges at all then.  
4. Restrict your time on the Internet
---
Making and receiving calls or text messages can be very expensive when traveling as much as browsing on the Internet. Restrict your time on the Internet, so you can avoid roaming charges that will hurt your wallet.
Also, you can make a list of the most important things you need to do, so you will not waste your time and your money staying connected to the internet.
5. Send text messages
---
Yes, it is true, texting is kind of annoying sometimes. It is cheaper than calling though, so you should consider that one text message costs $ 0,50. It is really helpful when you don't have data roaming and you need to communicate with friends/family or even work.
Additionally, you should keep in mind that there are social networks like Facebook and Twitter which personal status can be updated just by sending a single text message. Yes! You can update your status with a text message if you have already linked your phone to the web page or app.
6. Download a data monitor
---
There are smartphone applications that monitor your data usage and give you a warning signal when you are about to reach your established limit. With these apps, you will not exceed your limit so you will avoid extra data roaming charges.
Two of the most famous data monitor available for Android and iOS are Data Usage and My Data Manager. Both of them allow you to monitor mobile, roaming, and Wi-Fi data usage.
They support custom usage alarms to avoid overage charges and they show you which apps consume the most data (while being active or in the background). If you cannot decide which one is the best for you, here are the recommended ones.
7. Get a Prepaid SIM Card or eSIM
---
These type of cards offer cheaper rates than any international roaming charge. You can make calls, send text messages or browse the internet at the lowest prices. And here you have very good news: if you receive any of these services it will be completely free! Yes, you will not have to pay anything if someone calls you or sends you a text message while you are outside your country. Also, these cards are available in more than 195 countries.
Are you looking for an international Travel SIM Card or eSIMs?
How to Avoid Data Roaming Charges on Android?
---
It is recommended to disable your packet data so you can avoid extra charges and still be able to use the internet. Go to your phone Settings > Wireless and networks > Mobile Networks > Disable Packet Data. Be aware that menus can differ from phone to phone but generally the path looks like above. If you decide to follow this advice, you can connect your phone to a Wi-Fi network. Never worry about data roaming charges anymore.  
How to Avoid Data Roaming Charges on iPhone?
---
The same advice given before applies for iPhone, too. Go to your phone Settings > General / Network > Cellular > Turn Data Roaming Off. If you need internet access, simply connect to a free Wi-Fi network without worrying about the future charges. But this is not the only option you have! You can also shop roaming plans with your carrier. Before you go traveling, call your carrier or visit it online to look up international roaming plans.
After you arrive at your destination, go to the Settings > Cellular > Cellular Data Options > Turn on Data Roaming and other settings suggested by your carrier. Next time you need to travel, consider some of these recommendations and share with us your experience!