What is The Best Portable WiFi Router?
Published: November 30 2019
|
Updated: December 20 2022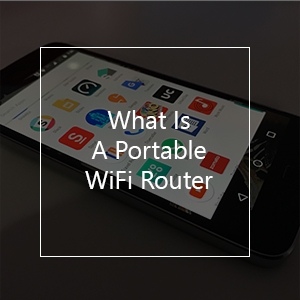 Just like you, I realized that my internet needs are ever-growing. As I become more and more connected, I think that everyone deserves better than the airports' free WiFi network and cheaper options than the usual Data Roaming while traveling.
Today, having access to the Internet abroad is more necessary than ever. We use our phones and tablets to access maps, translation websites, book plane tickets or search for things to do around the area. It's enhancing your travel experience to new limits.
Data Roaming charges are incredibly high and connecting to the free internet in public areas is a risky endeavor.
Mobile WiFi routers can help you to connect to the internet wherever you are in the world! Very easy to use and most devices are available at an affordable price. But it still begs the questions: What is a portable WiFi router? 


What Is A Mobile WiFi Router
---
You probably know what a normal router at home looks like – a small box causing cable spaghetti all over the place. Connected to the phone cable, it provides you with the heart-warming internet.
Now, there are routers that work without any cables! A Portable Internet Router has the advantage that you can insert any Data SIM Card inside as long as the router is unlocked.
This feature enables you to set up your own individual internet connection. As you can use your own SIM Cards, you can always choose the cheapest available rates around the globe. May it be a Prepaid SIM Card for Europe,
Local SIM Cards or other package deals. Now you don't rely on any Hotel WiFi connections or the free wireless connection at the nearest McDonald's on your travels. Furthermore, you are able to share your internet with friends & strangers – including iPhone / Android smartphones, laptops, tablets and even your Xbox One or PS4. 


How To Choose The Right Portable Internet Router
---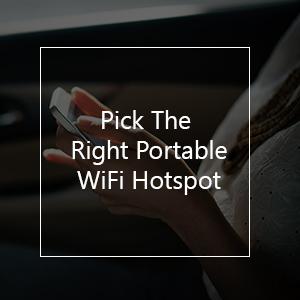 But you can only enjoy your personal mobile WiFi router if it is unlocked! With the purchase of your travel gadget, rather double check if that's the case.
Locked mobile WiFi hotspots have the big disadvantages that they can only be used in conjunction with the company's SIM Card who sold you the portable hotspot.
What does that mean for you? It will be expensive! Whatever the company wants to charge for their data roaming – you have to accept it.
Smart travelers will get an unlocked router with the reasons we mentioned before. You can always go with the cheapest SIM Card available depending on your destination.
Upload and Download speeds will depend on the SIM Card package that you have purchased. Overall, it will keep the costs low for your travel fund!  
The Best WiFi Mobile Router In 2021
---
Buy cheap. Buy twice. That's many times the case. With portable WiFi routers, it is not that relevant. It mostly depends on the country that you are visiting as you need a proper network coverage. So before you order, check that your destination has a decent network coverage for 4G! If not, then a cheaper mobile WiFi router option is the perfect fit for you.
There are affordable options on the market that can connect multiple devices (up to 10) and provide you with appropriate internet connections. Those won't hurt your travel fund – I promise!
Here at SimOptions, we use a Huawei E5577 Unlocked 4G Hotspot. It can be used with any SIM Card with up to 10 devices at the same time. Just insert your SIM into the card slot and you are ready to go! With its long-lasting battery of up to 600 Hours standby and 8+ hours, if connected to the internet, you will always be available with multiple devices. 


Things to Consider When Buying a Mobile WiFi Router
---
You probably came here to make an educated decision about what product is the right choice for you. We listed a few key points that will help you to do so:
Locked/Unlocked:
---
We did talk about it twice already but it is a very important factor. Get yourself an unlocked mobile hotspot and you won't have any regrets later on.
Use any SIM Card you want and have the freedom of choice with any local network provider that offers you the most affordable mobile connection.
Internet Connection Speed:
---
Both 3G and 4G LTE are being properly covered by the available mobile hotspots currently. Some companies are upgrading their products to be able to offer 5G speeds. It highly depends on the destination.
There is no use for a 5G WiFi hotspot in a country that only has a local network coverage for 3G. Do your research on that one first.
Cost:
---
One of the biggest deciding factor, but luckily mobile routers are inexpensive. Their prices range for most models available is somewhere between $40 – $140 USD.
Our Huawei E5577 at SimOptions is available for $59,90! If you are planning to travel alone, then one of the cheaper alternatives is right for you, but if you are traveling in a group or you want to have a fast & reliable high-speed internet connection, then you should start looking for a device in the higher price range.
Functionality:
---
You get what you pay for! Obviously, you get the basic functionality – being able to connect to the internet! Some devices also act as a powerbank to charge your other devices. Other additional features are Touchscreens or the ability to send and receive SMS.
Size:
---
Carefully read the product description of the hotspot that you are considering to purchase. They vary in size but most of them are relatively small and lightweight! Whether you are on a business trip or on holiday for pleasure with friends or family, WiFi routers give you the option to always stay connected to the internet wherever you are.
Watching your favorite Youtube series, answering emails or just snoozing away scrolling down your Social Media platforms, mobile WiFi hotspots are the perfect gadget for people who do not like to be on a hunt for free WiFi option at their destination. 
Just enjoy your trip as staying connected to the internet has never been easier than nowadays! Are you traveling to the USA? Then make sure that you pick the best prepaid sim card USA to fully enjoy your trip!