What is an eSIM?
Published: January 13 2020
|
Updated: September 30 2022
No matter where we go, we always need to stay connected with our family, friends or our boss. No matter if we just move from one city to another or we are just visiting our best friend in a different country. The truth is that having the possibility of making or receiving phone calls or browsing on the internet is just an essential thing nowadays.
Buying the proper SIM card can be one of the most stressful activities, especially when planning a trip. But this can be avoided with the arrival of the – not so new – eSIM. Maybe it is the first time you read about this type of SIM, but it will not be the last time you do it.
Read what we have prepared for you and find out why the eSIMs are part of the future devices around the world.
eSIM: What Is It?
---
As its name suggests, we are talking about a SIM, of course, but this time it is not a regular SIM card but an embedded SIM. We have already explained in different articles what SIM cards are. With making a reference to what we explained in one of our previous articles The Ultimate Guide to SIM Cards, let's say it is a mini computer that contains all the necessary information to communicate with cell towers. This is what allows you to make and receive phone calls, send text messages and browse on the Internet.
eSIMs work exactly like a regular SIM card work. It is connected to a specific mobile network with which you need to activate a cellular plan or a data plan to be able to make all those things mentioned before.
Traditional SIMs and eSIMs store the same information. Remember that a SIM card is your phone's I.D. So it contains your phone number, the international mobile subscriber identity (IMSI) number, your authentication key (to identify and authenticate subscribers), your list of contacts and your text messages. Although you cannot see an eSIM as other physical SIM, it has the same functions and purpose as the other card.  
What Are The Benefits Of The eSIMs?
---
Since this type of SIM card is already included in the mobile phone or any other device, product designers have more space and flexibility during the manufacturing process. They can use that "extra" space to add some other important things or make the device even smaller or thinner depending on what they need.
Entrepreneurs and travelers can benefit much more than anyone else from eSIMs. Why? Because they will only need to call the mobile network operator to activate a new phone number or change their phone plan. Besides they will not need to carry more than a SIM card or any other device to stay connected with the ones they need. Plus they will not need to spend more money on new SIMs that will be used maybe just for a couple of days or weeks.  
Which Devices Are Currently Using eSIMs?
---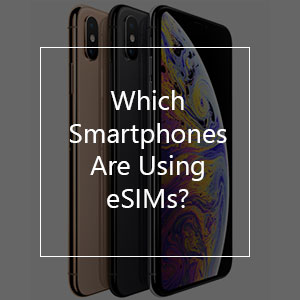 It is important to say that eSIMs are not that new, but they start to reach the market only now and not all mobile networks accept them, yet. However, there are some mobile devices that are currently support eSIMs. First, we have the Apple Watch 3, which was first launched in September 2017. The eSIM used in this device occupies only 1% of a traditional SIM, which is a huge difference talking about space. You will have GPS+ Cellular just by pairing your watch with your iPhone.
There are some other smartwatches fitness trackers with a similar technology used in the Apple Watch that can be paired with Android cell phones. But, different from the Apple Watch, these smartwatches do use physical SIM.
Although some other devices started using eSIMs, the first cell phone to use an embedded SIM was the Google Pixel 2, which was launched almost at the end of 2017. However, this mobile phone only works for Google Fi, formerly known as Project Fi. Remember that Project Fi is a Mobile Virtual Network Operator (MVNO) by Google that uses cellular networks and WiFi to provide phone calls, SMS and mobile broadband. This telecommunication service uses networks operated by T-Mobile, Sprint, US Cellular, and Three.
A year later, in September 2018, Apple launched the new Apple Watch 4 and the iPhone XS and XS Max. These last two types of iPhones feature dual SIM with an eSIM and a nano-SIM card. With this new characteristic, you will not need to switch phones. A dual SIM card will allow you to use one number for personal calls and the other number for business matters. You can also change your cellular plan and start using a data plan when you travel to another country. You will omit that annoying process of looking for the proper SIM from store to store.
As it was said before, eSIMs are not so new, but they are still unknown among most people. 2017 was the year in which the term "eSIM" was most popular and a lot of people thought this type of SIM was going to be part of many devices in the following months but it was not like that.