The Different Types of SIM Cards Explained
Published: January 08 2020
|
Updated: April 07 2023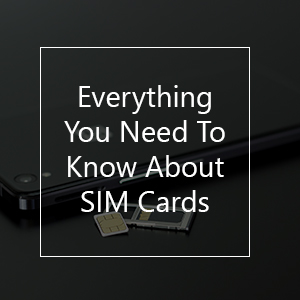 Did you know Roland Moreno wanted to present the SIM in the format of a ring? That was not practical, so he put it on a card and because of this amazing creation, our mobile phones are now connected to the internet. 
Although the SIM card has been with us for over 40 years, there are a lot of things to learn about it: the types of SIM cards, all its functions and even what a dual SIM phone is and what it has to do with this chip.
A long time ago, we were sending homing pigeons. Many people were waiting for a letter from their loved ones for months.
Now we get crazy if a text is not answered in seconds. SIM technology is the reason for our madness.
Find out below the exact differences among SIM Cards.
Everything You Need To Know About SIM Card Differences
---


What is a SIM Card and How Does It Work?
---
SIM means Subscriber Identity Module. It is a small piece of extra plastic that stores the subscriber service key safely. You need that key to identify yourself in the network and be able to enjoy the service. In this way, you can change the customer subscription from one device to another by changing the card.
In this sense, the SIM card is a mini-computer that functions inside another device like a mobile phone, tablet or PC. It has identity and security resources that make a SIM different from one to another.
You can have important services like chat, Mobile TV, games and more because the SIM Card does not necessarily need an internet connection.
The user does not need to pay data traffic to enjoy the service from mobile networks. Instead, the customer can enjoy intuitive, comfortable, safe and efficient services.
On the other hand, if you decide to pay for any data allowance, you can manage your social media and have access to online banking. This means that you can be enjoying the Italian sun while you pay your mortgages online.
Likewise, you can make/receive calls and text messages and generate all kinds of info backups.
The Different Types of SIM Cards
---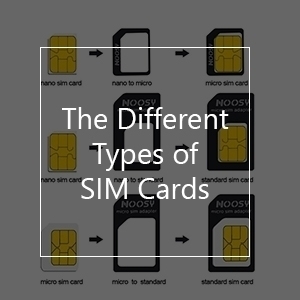 The SIM Cards come in different versions. All depends on many aspects, like size, use, and range of action. Therefore you need to know some facts to consider before you choose one. 
Where Are You Going To Use The SIM Card?
---
First, you need to know where you are going to use the SIM card. For example, if you are going to have your vacation in a different country, like Japan, you need an international SIM card.
International SIM Cards allow you to connect to the local internet network without paying for any extra roaming charges. 
A Prepaid SIM Card plan allows you to decide in advance how much money you want to spend on internet services. On the other hand, you can choose a zone package that offers coverage by geographic zones.
For example, if you are going to travel to Barcelona, Paris, and Amsterdam you could choose a European SIM card.
Nevertheless, if you need a Postpaid SIM Card plan, you can contact the local internet service providers in your country and choose a SIM card plan which works for you.
Where Are You Going To Insert The SIM Card?
---
The size of the SIM cards is an important thing to know before its purchase. Nowadays the mobile phone manufacturers are using smaller SIM cards to save space and make the smartphone or device lighter.
SIM Card Dimensions:
---
Standard SIM: 25 x 15 x 0,76 mm.
Micro-sized SIM: 15 x 12 x 0,76 mm. 
Nano-sized SIM: 12,3 x 8,8 x 0,67 mm. 
SIM Card types and Compatible Devices
---
There is a SIM card size template where you will select one. You only need to check the SIM card compatibility chart with your tablet, PC or smartphone first to make sure that you will pick the right one. To give you the idea, below you can find the most common phones and their SIM card.  
Standard SIM card 
Used in early generation cell phone
Micro SIM card
Apple iPhone 4, 4s and iPad 
Samsung Galaxy Core Prime, Galaxy Express Prime, Galaxy J2
Nano SIM card 
Used in newer smartphones
Apple since iPhone 5, iPad Air and iPad Mini
Samsung since Galaxy Express Prime, Galaxy S6, Galaxy Note 5
Google since Pixel, Pixel 2, 2 XL, Pixel 3, 3 XL, Pixel 3a, 3a XL, Pixel 4, 4 XL
Please make sure that you know exactly what SIM Card size fits into your device. Most carriers introduced Combi SIM or Trio SIM which is basically a Nano and Micro SIM attached within a Standard SIM card.
As easy as it gets, you can manually pop out the correct SIM card size you have to insert in your device. 
What Is The Difference Between CDMA or GSM Technology?
---
CDMA means Code Division Multiple Access and GSM means Global System for Mobile communications. Both are radio systems used on cell phones. Some companies still use CDMA tech.
With that system, your device does not use a SIM card. On the contrary, the device has an ESN (electronic serial number) so you cannot change your phone.
However, when you use a phone with GSM technology, you can easily remove the SIM Card and later insert it into another device. This is very practical if you are traveling because you can avoid international roaming which can be very expensive.
 Read more about the Difference between CDMA and GSM.  
Does Changing SIM Cards Mean Changing The Phone Number?
---
The answer is yes. You need to remember that each SIM card has its own number.  If you decide to swap your current SIM card with a local one upon arrival at your destination abroad, be aware that the phone number changes. 
Therefore you need to prepare yourself beforehand. You can order the SIM online and inform your contacts of your new number.
What If You Don't Want To Change Your Current Number?
---
Maybe because of your job or any personal reason you need to keep your current phone number. There is a possible way to do it. You can get a dual SIM phone.
What Is A Dual SIM Phone?
---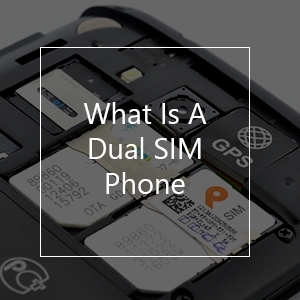 This is the solution for those who refuse to change their current phone numbers. A dual SIM phone allows you to insert two different SIM cards. This gadget is perfect for people who like to separate work contacts from personal contacts.  
What Are The Perks of Having a Dual Phone?
---
As mentioned before, if you need to separate different aspects of your life, this is the perfect tool. It is very comfortable because you will only carry one cell phone.
If you are in an area where one of your phone companies does not work, you can use the other. This is also a very useful tool if you are traveling abroad because you keep your current line to communicate back home, let's say through WhatsApp.
You can use your new phone number to make national calls. With this, international roaming is out of the picture.
What Is The Best Dual SIM Mobile?
---
Dual phones are a challenge from a technical point, but many big mobile phone companies have made many incredible dual phones for you to use.
Huawei P30 Pro, OnePlus 7 Pro, Motorola Moto G7 Plus, Samsung Galaxy S10, Apple iPhone XR are some of them. There are a lot more dual SIM Android mobile phones on the market for you to choose from.
What Types of Dual SIM Card Phones Are There?
---
The dual SIM card phones have three types. 
Passive ones that have one transmission antenna, so only one of the two SIM will be active for calls and data while the other is off. 
The dual standby can make and receive calls through both SIM but when you are using one line, the other is automatically off.
Finally, the dual call type allows you to have calls on both lines at the same time. The phone indicates to you what SIM that call is coming from and you decide to take it or not.
What Are The Disadvantages of Using A Dual SIM Phone?
---
Unfortunately, there are some disadvantages to having a dual SIM phone. First, if the phone has a SIM card slot and a micro SD card slot, you cannot use two SIM cards at the same time. So if you were planning to use two phone lines, you cannot.
Furthermore, if your dual phone allows two SIM cards, one of them is usually 4G speed and the other 3G or 2G speed. Say goodbye to constant high-speed internet. Worst case scenario, you will have a 4G SIM and the other SIM will work only for calls.
Finally, you must consider that having a dual SIM card will make your battery drain fast. This is a big disadvantage.
Choose Your SIM Card Wisely
---
In brief, even when SIM cards seem to be the same, they all are different. Thus you must be careful at the moment of purchase. First, clear your needs and preferences and get to know your devices in order to choose a suitable SIM.
Likewise, if you are thinking about having a dual SIM phone, make sure that you know how it works and if it can be useful for you. You do not have to be in a rush to choose your communication tools. Exploration is the key.
Last but not least, try to remember what Roland Moreno once said about his SIM cards: They have the potential to become your little helper. We live in a world where communication means everything for everybody, what do you really feel about it?